Photographer Florian Schulz has travelled to the Refuge for the past five years, to photograph its stunning beauty and wildlife. Often, it means many lonely months out in the field. But on one month-long expedition, Florian was delighted to be joined by his wife, Emil Herrera-Schulz, and their two boys Nanuk and Silvan. Hear from Florian and Emil about the wonders and challenges of parenting in the wilderness.
Emil: Florian was working on filming the Arctic Refuge before our kids were born, and he was gone a lot while they were infants. So when threats to open the Refuge to drilling got worse, I was extremely down. We both wanted the children to see this place before it was destroyed, so they would know why their father had been gone.
Florian: I missed years of my boys' lives because I was filming this project. I realized that we don't know what's going to happen to the Refuge, but they should understand why I am gone—why it is important to Emil and me, and for them to create their own memories of this place over time. So when Silvan was 18-months old, and Nanuk was four-and-a-half, Emil and I decided their first trip to the wilderness of the Arctic Refuge would be for an entire month.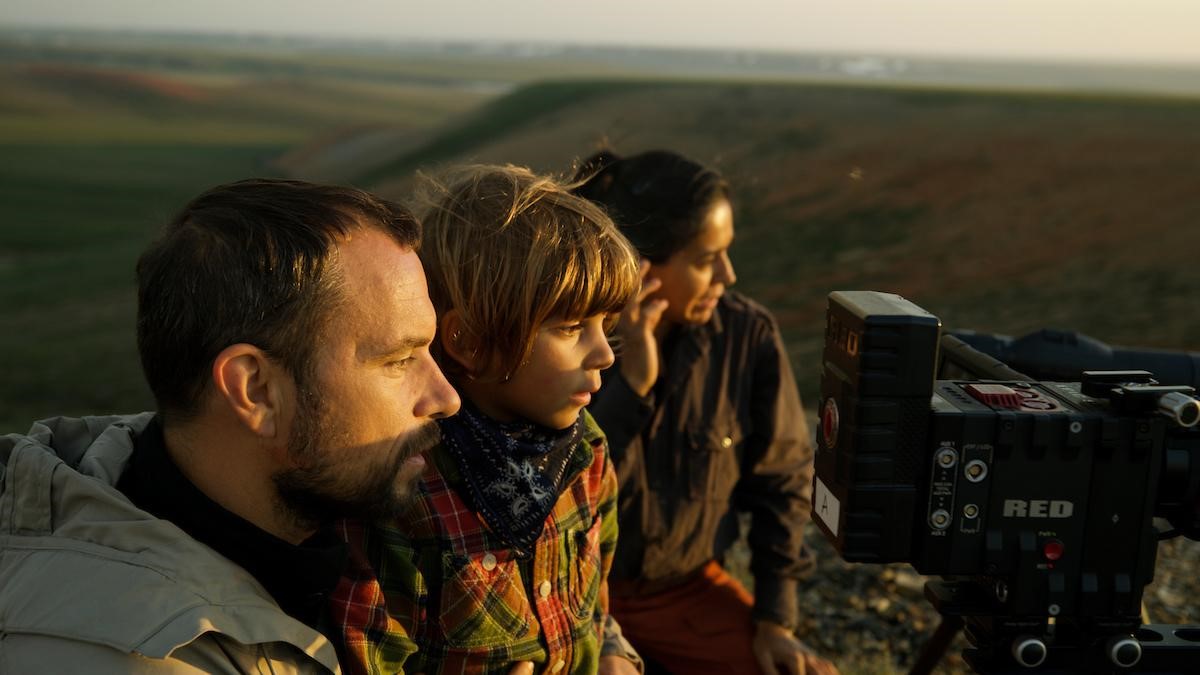 Emil: When Florian was gone, I would tell the boys stories of what their papa might see or what images he might bring back. By being there together, it would be very special for all of us for them to see their first grizzly bear, and first caribou. The kids were absolutely intrigued. They were both very excited, but Silvan was still very little, so in many ways he was just along for the ride. But Nanuk was already letting his imagination run wild. I couldn't bring that many things with me because you have to pack light. I wondered: "What are you going to do if the children get bored?" I had packed no toys.
It was a very long trip, so Florian had gone ahead to set up camp and have everything settled. We wanted to make sure we were there in time to see the caribou migration.
We arrived in Happy Valley where Jake the pilot would start the flight. Florian had worked with Jake since the beginning of his fieldwork. Nanuk was super excited about the plane—this tiny little thing that only fit two people. Although he had been in a bush plane before, he was younger than Silvan was at the time, so he couldn't remember it.
Florian: I was in the middle of serious filming so it was not just a vacation and we still needed to be extremely productive. There were so many questions: Do we dare to do this as a family? How will the children fare with light 24 hours a day? What will they do? What happens when the mosquitoes get bad? Or when it rains or the weather gets bad and they are confined in a small tent and they can't get outside? If something happened, we would also be hundreds of miles away from Fairbanks by bush plane.
So, there were a lot of concerns to overcome in our minds to go out into this wilderness. That being said, we weren't fearful, and I don't think we did anything that would be dangerous in that regard. But when you do something like an expedition to the Arctic Refuge, nothing is the same as in your everyday life.
Emil: When we finally climbed into this little plane, it was perfect weather, beautiful and sunny with no wind. There were no mosquitoes yet, which was also very special. As we headed east across the tundra we flew over the Canning River and saw incredible braided lines of bright silver below us. The children were fascinated. We saw this chain of high mountains with a little bit of snow still on the peaks. And on the other side, we could see the coastal plain going all the way to the Arctic Ocean. We talked through headphones because of the noise in the small plane, and Nanuk exclaimed "there are no cars! There are no houses and no people!"
We flew over huge ponds, and began to see large flocks of birds, and talk about what we might see once we land. The one thing I made sure we packed was a bird guide, because the boys love birding. And so, that was my first impression when we got to the Refuge: an incredible landscape that is pure wilderness as far as your eyes can see.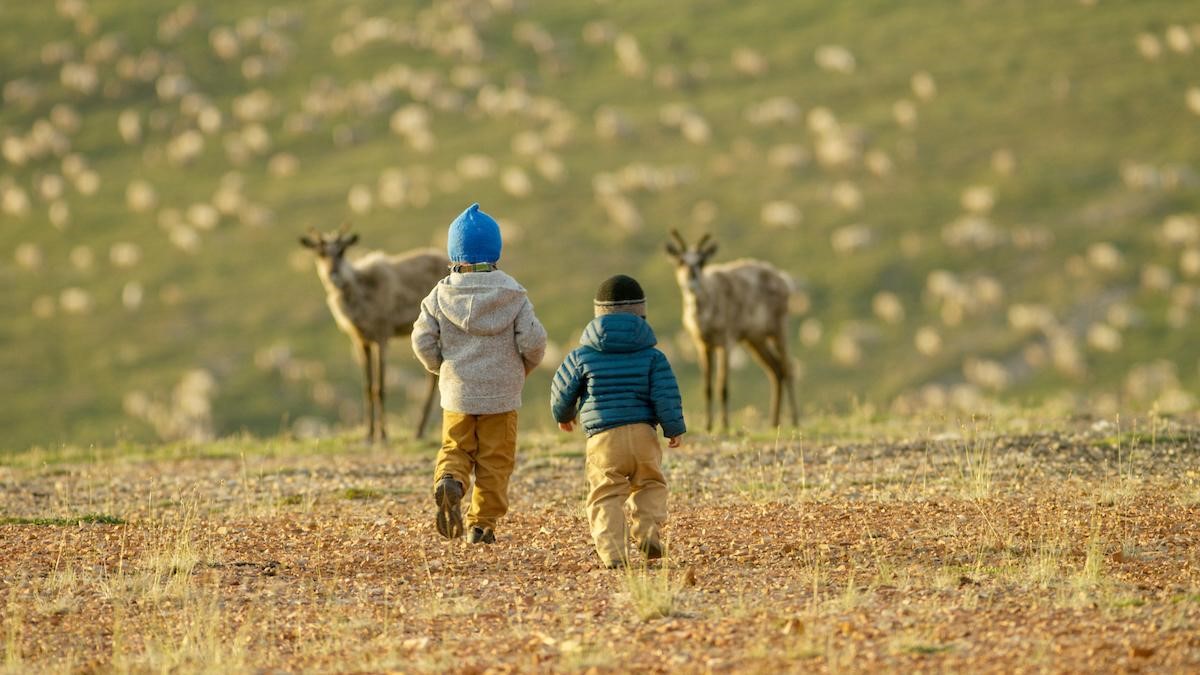 As we got closer to the mountains, I saw two little spots. Jake started to make turns around this point. I realized we were arriving at camp, and Florian was down there waving at us. "Oh my God," I thought to myself, "The kids are so excited." We landed in this gorgeous light. And as soon as we got out of the plane, I could see towards the river and everything turned golden. I felt I had arrived in Paradise. That was my first impression.
Even though we had only been apart for two or three weeks it was very emotional. We were crying and hugging and kissing.
Florian: In the past, sometimes it would be three or four months that I would not see my family. This trip was in 2017, but we had started filming in the Arctic Refuge in 2014. There would be times that I would not come home for four months. Timing in the Arctic is everything,
They arrived just after the last snow was disappearing from the coastal plain, and all the tundra flowers were blooming. It was really a big relief for me not to be away from them for another season.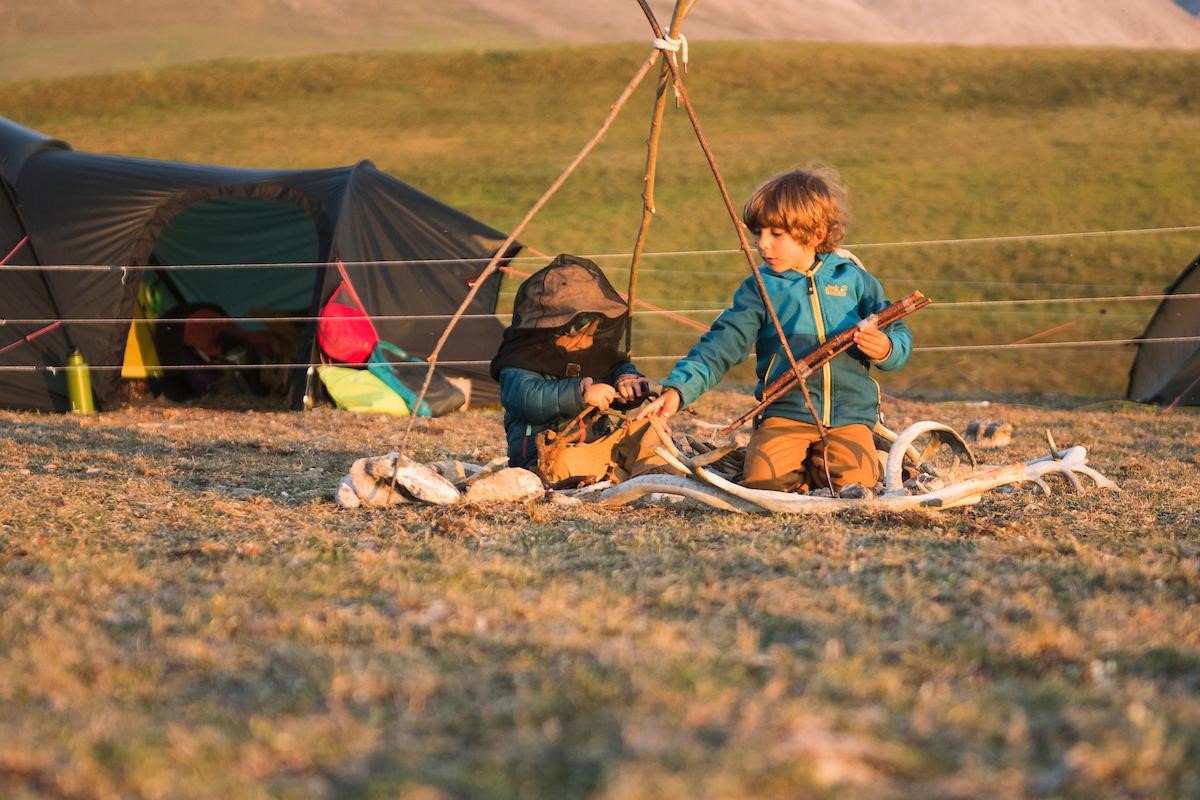 Emil: It didn't take very long until the boys started to gather their own toys. They made small structures out of stuff they gathered, and found antlers and feathers and sticks. We explained that this is still wilderness, and after playing we had to bring it back where it was found. The excitement of finding new things was just wonderful. We didn't instill a lot of fear in them about the dangers of wilderness. So for them, it was just a larger playground. In the beginning I gave Nanuk ideas of how to know whether there might be an animal close by, and how to pay attention to certain dangers, especially if the animals might be aggressive. Walking through the willows, we came close to a creek. I told him that whenever you go through bushes, you have to be very loud and pay attention, but I never said "Oh, don't go there, don't do this and do that."
From a very early age we had taught Nanuk how to use his pocket knife. So he was very busy gathering sticks and making arrows, and pretending to be gathering and hunting. I realized how little children need to be happy and excited about things, and how much they really need to be outside. The more they can run and climb and turn rocks upside down-- they discover another part of themselves. There is a kind of natural spirit that we all have that has been tempered down by civilization and modern times, cell phones, and business. I think if each of us could once in a while take time to go back to that primitive side of us, we would be in a much better position to appreciate nature.